From A Hindu Childhood to Atheism to Christianity – A preacher story.
He was born and bought up in Chittoor, Andhra Pradesh, South India, in a Hindu idol-worshiping family. In giving his testimony, he wrote, "We were very devoted towards idols, following all the required rituals; my parents were also from the same place. My Father's name was Mr. V. Doraiswamy & Mother's name was Mrs. Pandamma. Our family included ten children, five sons and five daughters; I am the tenth child and the baby of my family, born on 25 February 1971. My father was a farmer, and my mother also joined him in farming, where we would work as day laborers in the fields of others."
Before his birth, due to poverty, malnourishment, and illiteracy, his parents lost five children due to unknown causes but commonly described and treated as stomach pain; they suffered from continuous vomiting and dysentery. In those days and in such remote places, they had no proper medical facilities to save their children from these types of diseases. Because they had to travel by foot or bicycle, 15 to 18 miles, to reach the government hospital, many times, when they were on the way to the hospital, the child would take their last breath and expire in the middle of the journey. His second elder brother was five years old, his fourth elder sister was seven years old, his sixth sister was six years old, and his seventh brother was seven years old when they expired due to the family's poverty and culturally unhealthy practices.
When Vijay was twelve years old, his father expired, and he went into depression, but his mother encouraged him to complete his tenth grade in the government school. Even at the age of twelve, he used to work as a helper for a mason (construction). He used to manage his studies while simultaneously working and succeeded by completing the tenth grade, though with much difficulty.
He continued to do construction work even after his studies and gradually was well experienced, becoming a mason in another three years. Having reached that goal, he worked for about twelve years in the same manner. Then later, he learned to drive the tractor fully loaded with sand for the purpose of construction. Due to hard work, depression, and failures, he became addicted to smoking and chewing gutka, which is like tobacco prepared from crushed nuts. At that time, he was happy with his life and unmolested by his addictions. Over time, that began to change. To find peace, he followed Hindu traditions as his parents had. He would sacrifice sheep, goats, and bulls to idols and would sometimes dance before the idols but was no longer happy or satisfied. Finding no peace and believing it to be unattainable, he ultimately became an atheist.
Growing up as a Hindu, he criticized servants of God who visited their village to share the Gospel; he once badly beat a preacher. Due to this type of incident, the villagers used to hate him and feared that he might manhandle them also if they asked him any questions.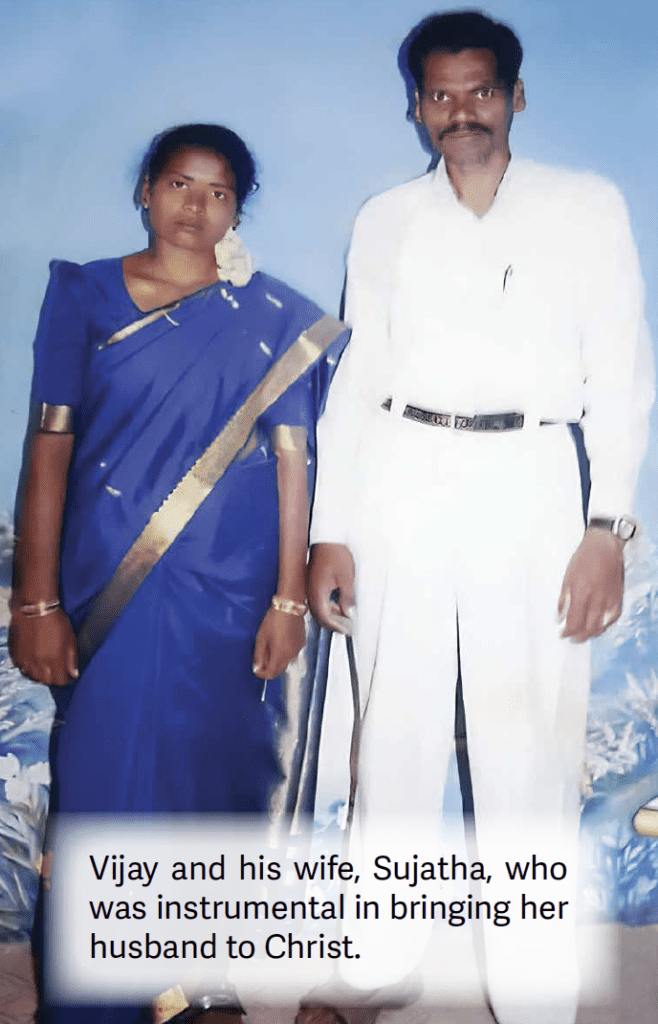 As years passed, both his eighth and ninth siblings (sisters) married Christian men who were very nominal. (Nominal typically means someone not born again but rather "born into a Christian family" with little or no faith or knowledge of scripture.) Thereafter both sisters started to attend church because of the pressure from their in-law's family. Gradually the word of God pierced their hearts, and both the sisters came into the saving knowledge of Christ. (In Indian culture, the sons usually remain with the parents, and the daughters-in-law assume a position of servitude under the mother-in-law, obeying her in every detail and helping to care for the family. She may be held responsible for family problems of health, business, etc., and can be punished for the transgressions of her husband. Often, when he perishes, she will be cast out of the home and, sometimes, unable to return to or be accepted by her own family. Due to the low esteem of females and the belief in reincarnation, it is suspected the daughter-in-law, and if none, the mother and/or daughters, are the karmic reasons for any ill that befalls the family.)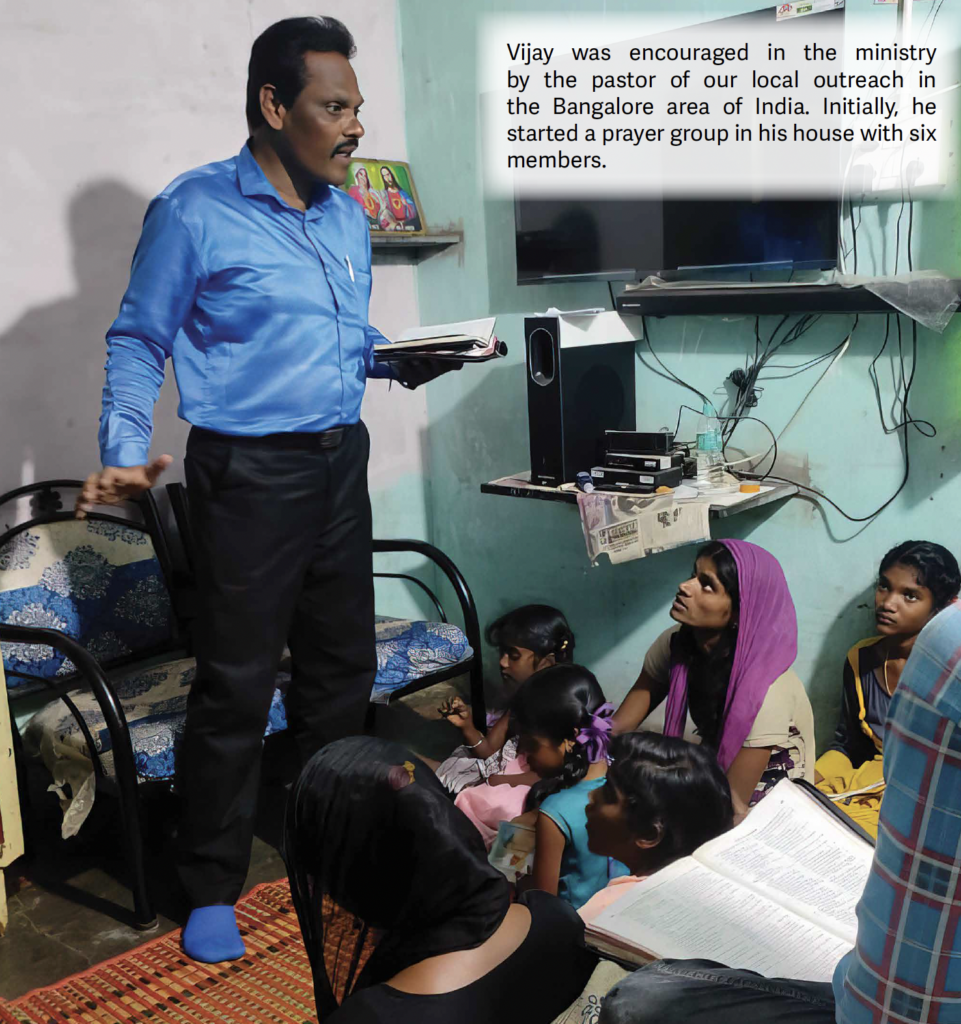 Later, both sisters encouraged Vijay to attend church. (Their acceptance was likely due to the godly life of the mother-in-law and father-in-law, who treated them with respect and love as Christ taught rather than with the disdain of Hinduism.) They used to share Gospel with him, and he rejected their pleading many times. Then, at age twenty-five, he was forcefully taken to church for the first time. There the pastor's sermon made him feel a great difference in his heart. The peace of the Lord began to encompass him and reign in his life. He decided to continue attending church, and after two years, one day, he heard the voice of the Lord in a dream asking him to wake and read Isaiah 43:1-7, which said,
1. But now thus saith the Lord that created thee, O Jacob, and he that formed thee, O Israel, Fear not: for I have redeemed thee, I have called thee by thy name; thou art mine.
2. When thou passest through the waters, I will be with thee; and through the rivers, they shall not overflow thee: when thou walkest through the fire, thou shalt not be burned; neither shall the flame kindle upon thee.
3. For I am the Lord thy God, the Holy One of Israel, thy Saviour: I gave Egypt for thy ransom, Ethiopia and Seba for thee.
4. Since thou wast precious in my sight, thou hast been honorable, and I have loved thee: therefore will I give men for thee, and people for thy life.
5. Fear not: for I am with thee: I will bring thy seed from the east, and gather thee from the west;
6. I will say to the north, Give up; and to the south, Keep not back: bring my sons from far, and my daughters from the ends of the earth;
7. Even every one that is called by my name: for I have created him for my glory, I have formed him; yea, I have made him.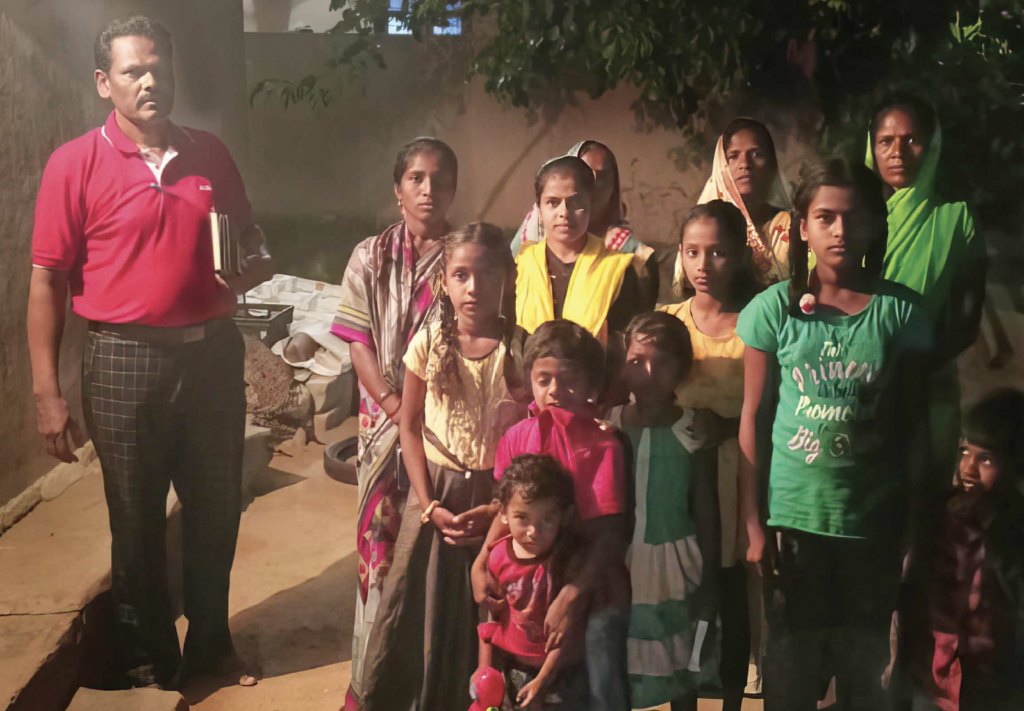 From that day, he quit smoking and chewing tobacco. He started to commit his life to the King of Kings and the Lord of Lords. He believed that Jesus was the only true God and attended a Bible Camp for about six months with his sister's help. Then, by the time he was baptized at the age of 27, he had already started to lead a new life in Christ and for Christ.
After years passed by, his mother made arrangements for his marriage to his sister's daughter, Sujatha, who was born on July 15, 1995, into a Christian family. In that region of India, it is customary for a girl to marry at the age of fourteen and to wed her mother's brother. After marrying, she continued to attend school and was faithful to church. Ultimately, she was instrumental in bringing Vijay to Christ and provided the "force" he mentioned that compelled him to attend his first church service. After marriage, they both faithfully attended church and praised God. He again started to drive a lorry (taxi) to earn money for his livelihood, and several years later, God blessed them with a son, Edwin Raj, born October 4, 2002, who is now 20 years old.
Reader: Do not stand in judgment against the mores and customs of other societies. Remember that Mary was "wed" (though not consummated) to Joseph, likely in her mid-teen years. Abraham was related to Sarah and Isaac to Rebekah, as was Jacob to BOTH his wives, Leah, and Rachel. Indian marriages are based on arrangement, what is best for the bride, groom, and families, not on "love." It is their belief that love comes not from impulse but from a shared life with mutual goals and respect. That being achieved, love follows in deep currents rather than shallow streams. BTW, the American divorce rate is nearly 50%; in India, it is 1%.)
Time passed, and in 2003, when he was 32 years old, he experienced heart problems. Due to a blockage, he could not walk well, so they visited a doctor, who operated on him and cleared the blockage. We praised God for his mercy upon Vijay. After the operation, the doctors suggested he not drive the lorry anymore because that may cause another severe problem with the heart, and his life would be in danger. (The stress of driving in India is beyond comprehension for most American drivers. Pedestrians seem to never look before entering the street; dust and dirt continually irritate the eyes, and what seems like thousands of horns constantly honk, even when there is no need. The sidewalks, street vendors, and other drivers are crushed by a population of 1.4 billion people. And if you hit a pedestrian, you are at fault, whether you are or not – that is the law. Twice I have had eye surgery to take particles out of my eye while riding as a passenger in an open taxi.)
Now, because of this medical recommendation, he was confused. Many of his Hindu friends and relatives started criticizing him, saying, "because he got converted to Christianity, he is facing all these sorts of problems in life." He could not work or drive a vehicle, and without income, his life was terrible, so they decided to leave their village and relocate to another place. They came to Bangalore in search of a job for him and his wife. Because their son, at that time, was still young, he thought of taking a security job, and his wife also could help out as an office cleaner or as a housemaid.
Through the help of his friend in Bangalore, he got a security job and was earning money for his livelihood. Months passed by, and he was able to find a church in a village far away. Through the recommendation of that pastor, they began to attend church faithfully in Bangalore. This is the church where our local outreach in the Bangalore area is located. (As persecution and the closure of churches in on the rise in India, we will refer to this pastor as Pastor B.) Soon, Pastor B. discovered that Vijay was interested in ministry and enrolled him in the Bible Institute.
Vijay worked as a security guard for about six months; then, he was promoted to an administrative position and his pay scale increased. After a few years of secular work, he committed to serving God in the same church where he was now serving as a layman for almost 15 years.
Vijay testifies, "We initially started a prayer group in our house with six members, but the neighbors raised complaints against us saying – 'you people are always making noise' so we were forced to stop conducting prayers in our house and instead rented a school classroom to continue the prayer fellowship".
As a family, they prayed earnestly and God answered their prayer and provided their needs through the people around them, their converts who gave them dry rations as tithes, though they had little or no income. Then we praised God for the way He led us, and Vijay determined to quit his secular job and serve full-time in ministry. Now by God's Grace, almost 30 people have joined together in this fellowship and are praying to and praising the Living God. They have rented a second place to meet and are praising Him for all His wonderful deeds.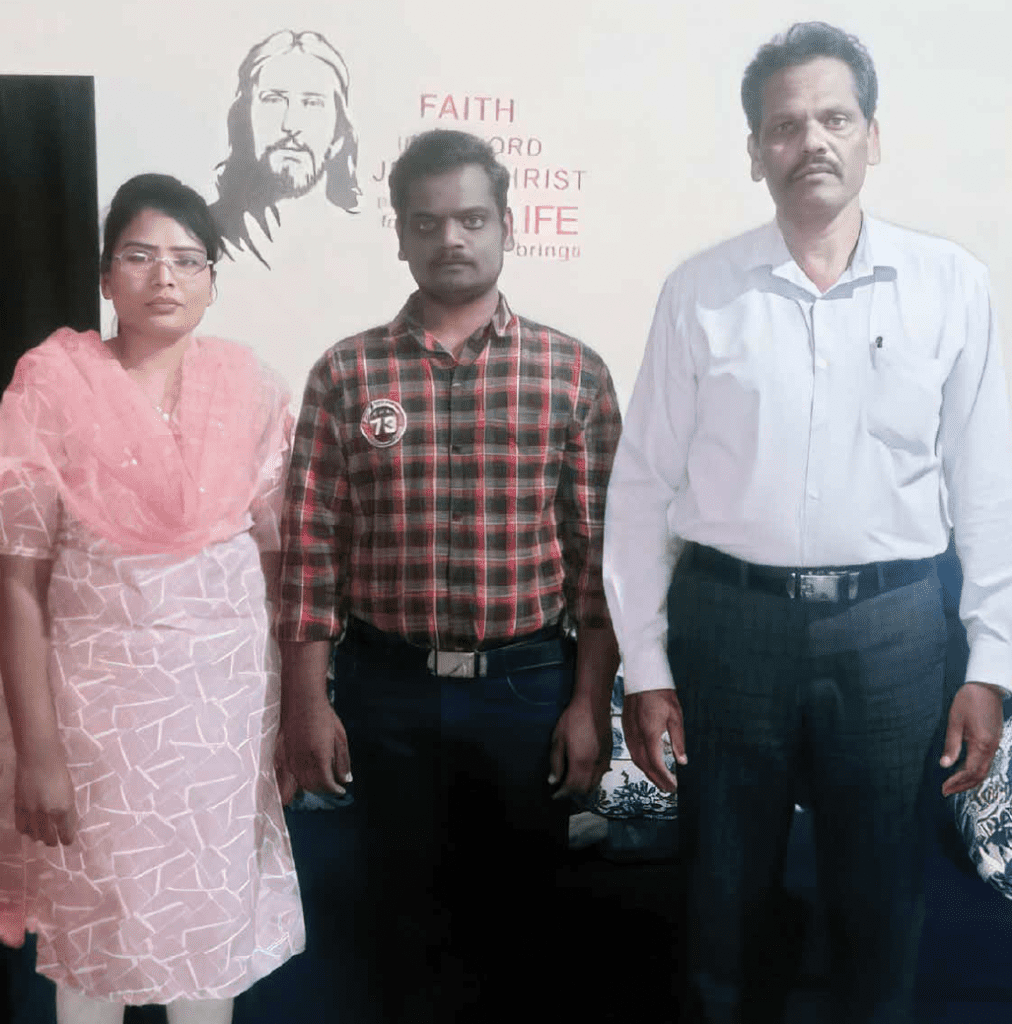 By God's Grace, they have now started prayer groups (house churches) even in Andhra Pradesh in the village where he was born. Vijay has appointed pastors to take care of the various churches and, as a family, to visit the same congregation at least one full day in a month. Neither Vijay nor his Timothys has been supported financially by any organization, but in recent years our partners in Bangalore have been supporting them with help from the Great Commission Fund. They lead their lives and ministries by faith. His wife goes each day for a job and earns a little amount. They spend that to remit the rent of their house, and churches, for traveling and family needs in a very limited way.
They are praying to construct a church building of their own and have raised many leaders for the kingdom of God (young Timothys). Their future vision is to start old age homes, strengthen the widows and encourage them to grow in the Word of God. (Many elderly are cast away as an unwanted burden on the family.) They also plan to start a children's ministry (a Touch A Life feeding program).
Epilogue:
Vijay currently has started ten house churches in the states of Karnataka and Andhra Pradesh, where the Telugu language is spoken. To lead these, he has six Timothys that assist him as a Timothy or Titus. Three other young men are still in training. These pastors also plant other churches and train their Timothys for service. Thus, the Great Commission Fund provides financial subsidies, tracts, Bibles, bicycles, and other ministry supplies. Your auto-debited monthly donation of any amount would tremendously help our national missionaries. Donate below, or go to finalfrontiers.world/gcf to donate.