The most incredible tool I know for changing lives and recruiting an army of witnesses

Bible Institutes and colleges can train young men and ladies for service in two, three, or four years. But youth camps will propel them into service in two, three, or four days. Who among us attended a youth camp and was not affected by it — for life? This is a story about one of our youth camps In Africa.

In Kenya, Missionary Jerry Daniels (who partners with Final Frontiers as a regional director) annually conducts a month-long camp for teenage boys. It is called the "Passage to Manhood Camp". It provides an alternative for the pagan, "coming of age" rituals of the Maasai and Samburu tribes. The hosting church has sleeping space for 120, but many more apply to attend. They are only limited by the lack of scholarship funds, for which Jerry routinely asks $35 per boy.

To illustrate, I chose this email from April 2021, where Pastor Stephen Ngunjiri reported, "The churches decided the camp must take place despite covid. More than 100 young men attended. Many thought we'd gone crazy by hosting a hundred boys for three weeks when variant CV19 was spreading quickly, and hospitals countrywide were overwhelmed. But on the other hand, the families depended on our program more than ever before, and it was a test of faith versus fear. Amazingly, God has seen us through this year's camp. Sixty-five boys surrendering their lives to Christ was an opportunity that could have slipped away forever if we had decided to cancel this year's camp'."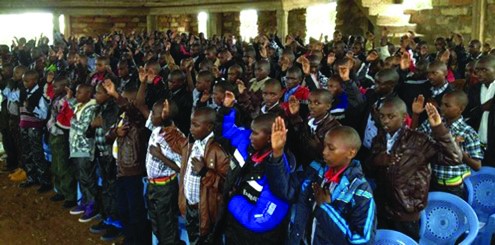 Some suggest funding a young man or lady to a camp wastes precious resources. Still, pastors and missionaries are leaders, and leaders always look forward. We don't live in "today" but in "tomorrow." For example, while this camp was in progress, Jerry was in another region (photos above) evangelizing an unreached people. With him were young men who had attended camps as young teenagers and given their souls to Christ and their lives for ministry. Jerry wrote:

"There's something very special about taking the Gospel to the "regions beyond!" (2 Corinthians 10:16). It's exciting to report that our church-planting evangelists and disciplers are reaching farther and farther into unevangelized regions! The wild "Ilemi Triangle" is where Kenya, Ethiopia, and South Sudan meet. The area is so remote and hostile that the official borders are still undefined. Evangelist Peter Katonga, and a young man training for ministry, just made a second successful trip to this dangerous but needy region! They reached Kibish, a key settlement inside the disputed border region. Now, there is a Gospel presence in this "region beyond!"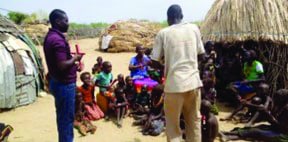 Camps feed the ministry like streams feed a river. So, as young men attend and come to Christ, they are enrolled in satellite Bible Institutes, of which Jerry has seven, with 260 students studying to be pastors and church planters. Beside them are another 400 who are training to be church leaders.

In Pakistan, pastor Shaukat Siddique has several camps each year that many of you have helped with, and it's coming that time again. Unfortunately, camps there are more expensive because no church facility can hold the crowd. Hence, they must rent camps and provide transportation for all the attendees. That means renting vans and buses for which you must care for the drivers the entire time. Yet, Shaukat can do all this for only $85 per person for his week-long camp.


Another difference is that the Pakistani camps are for ages fourteen to thirty. These are not "kids" who plan to serve Christ someday; they are adults who begin serving him that same day. When camp is over, while most return home, others are taken to desert villages, with a church planting team and begin their discipleship.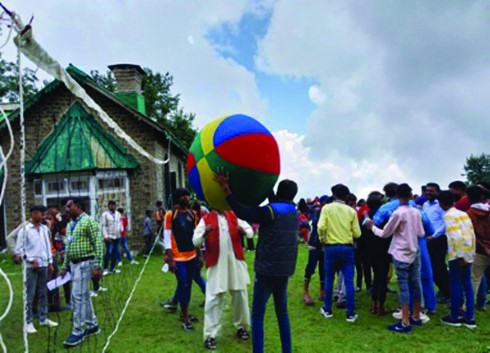 Shaukat has trained 55 of his young adults as helpers. Thirty serve as counselors and teach daily Bible classes. Fifteen are responsible for management duties, and ten serve as security guards. The $85 scholarship provides transportation, three meals a day, trophies, certificates, Bibles, accommodations, and anything else needed. Since he has two camps, I asked Shaukat to write a summary to explain their purposes.

"We are performing two camps each year. The first is in the Spring. This is one day camp with almost 500 to 600 youngsters. Our purpose is evangelism. We divide the youngsters into teams and have many competitions, such as Bible verses competitions, team-building games, and character studies from the New Testament. These help them understand that character's life. We have a passion for those who don't know about Jesus Christ and found this an excellent way to reach hundreds in just one day. The scholarship for attending the one-day camp is $17.

The second camp lasts five days in the mountains. This camp is organized every summer during our vacation season. We invite students from different schools and youth groups from different denominations, bringing them from many districts of Pakistan.

Last year 225 Campers joined our five-day camp. We divided the youngsters into four groups, with each group recognized by a different biblical character. In four days, we perform games, and skits, teaching new songs, quiz competitions, assignments, and testimonies. These activities result in leading youngsters to the Lord Jesus Christ. In addition, other youngsters already saved get great encouragement to start working for the Lord. Last year we reached 3,500 youngsters through seminars and camps. This year we have a goal to do more."

But what if there was a youth camp that paid for itself so that we no longer needed to ask for your help with scholarships?

In Honduras, we are working on that goal. Part of the plan is to convert our main campus in Cantarranas into a youth camp facility.

While our other church-based feeding centers wanted to return to eating on-site, these parents in Cantarranas asked us to continue serving their children with food bags. This is because our current, centralized feeding center is no longer practical or convenient in the expanding town where the schools have no standard release time. I feel children should not have to walk a mile to eat before or after school. Therefore, I plan to open three to four small local centers for the various districts of Cantarranas. In the meantime, we plan to convert our property into a youth camp and church conference center, We have converted our existing rooms from central air to mini-splits, saving in utility costs. We have constructed two more dorms, expanded our kitchen, and added storage rooms and two shower rooms.

The churches in the capital, only an hour away, struggle to find a good place to have their three-day youth camps and conferences. When some church leaders visited us in November, they commented that the sites they currently use do not compare to what we offer. However, we learned that we need more dorms and service space, and activities to satisfy the need for 200 to 300 youth at a time. Eventually, we plan to put in a swimming pool, basketball court, and other things to attract the youth, making it a hub for evangelism and discipleship. The income derived from this should cover our future expenses and give a surplus to plant more churches, open more feeding centers, and support more church planters. As we get established in the next several years, the revenue from the youth camps should cover all our expenses.

We fund camps worldwide, just as we do orphanages and feeding centers. But, unfortunately, neither time nor space is sufficient for me to tell you all that is happing. Still, this article gives you a better idea of what other things we do, why we do them, how you can help, and what your help will accomplish. Believe me when I say our global youth camps do need your help.